January 27-30, 2018   Salt Lake City, UT    Mindful Yoga Collective
May 5 – 9, 2018  Norcross (close to Atlanta), Georgia  Studio 87
August 18 -21, 2018  Palo Alto, CA   Blossom Birth
October 6 – 10, 2018 – New York City, Yoga Shanti – details will be posted as i have them.
There is an optional project with an additional fee of $225 for certification after the program. Certification involves working with two different students with pelvic floor issues, documenting, submitting video and more.
In this twenty hour workshop, we will delve deeper into how to teach students with pelvic floor issues and applying Pelvic Floor YogaTM.  Topics will include: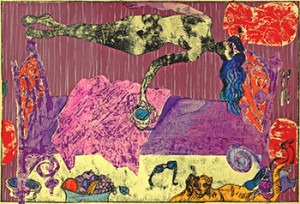 Cultural, medical and historical contexts of women and the pelvis
Current understanding of the pelvis, sexuality, misconceptions and modern medical care
In depth anatomy of the pelvis, hip flexors and femurs and connective musculature and how they translate into pelvic health
How posture affects the pelvic floor
Identifying hypertonic vs. hypotonic muscles and the difference between a strong muscle and a tense muscle
The role of breath and emotion in the pelvic floor
How to teach breath and asana to women who need tone in their pelvis and as well as those who have too much tone
How to hold a safe environment for women
What to do with the pelvic floor during all stages of pre and post natal
Restorative yoga for the pelvic floor
The training will include handouts and homework for the students to better facilitate learning and understanding of the subject.   The required reading for the training is The Female Pelvis by Blandine Calais-Germain and the first six chapters of Woman by Natalie Angier.  There will be a discussion on day 4 of the training about the book, Woman. The training can be used for continuing education for Yoga Alliance and NCBTMB. Each day we will have a short break.
Comments from past trainings:
"I truly think Leslie has a talent as a speaker and an even greater ability to connect to her students.  Her depth of knowledge was enjoyable, engaging and her sense of humor really worked well."
"Leslie is very detailed, very honest in her experience and understanding, smart, experienced yogini, funny and engaging.  What's not to like? Charming and generous with her time/knowledge."
"I wasn't prepared for the emotional response.  It is hard to put into words but I am grateful this is in my life.   A big fat thank you from my pelvis to yours" -JA
" I am so glad I did this training a second time.  This is continuing ed in the best possible way.  Thank you for sharing your journey with us, your vulnerabilities, and your growing body of knowledge." -NS
"Leslie is a wonderful and practiced teacher. Held the space well, allowed for inquiry but also knew when to rein it back in.  Her passion for the material is infectious."-SC
"Pranayama was the best part! Mind blowing experience to align the domes of the body and smart way to relate pelvic floor and breathing."- MA
"Amazing somatic experience in my glutes and hips. The instruction for femurs and buttocks might just change my life forever.  I am so happy you do this.  There absolutely has to be a pelvic revolution. -HH
"I LOVE Leslie's ability to teach and LEARN from her students.  She is very knowledgeable but also very open."
"Asana instruction was brilliant.  You saved me hundreds of hours and thousands of dollars!"
"Excellent job "normalizing the conversation" and creating a trusting atmosphere." -AS
"Leslie's approach on no rules but guidelines carried throughout her workshop.  The asana and pranayama instruction was beyond practical, it was exceptional."
"Leslie, this is GOOD work.  You are a pioneer and I look forward to following your studies and further research."