Ending Male Pelvic Pain, A Man's Manual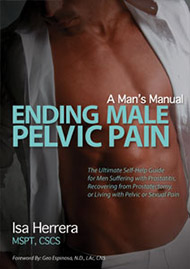 Isa Herrera, MSPT, CSCS, Physiotherapist and men's pelvic health expert, has written the ultimate self-help guide for men suffering from pelvic pain, sexual pain, or recovering from prostatectomy surgery. In this unique book, Ms. Herrera delivers the goods, sharing her trade secrets with you, putting you on the right track towards a pain-free lifestyle. This manual will teach you how to see and treat your pelvic floor muscles in a different way opening the door to health and well-being.
Ending Male Pelvic Pain will awaken the healer within you, putting you on the road to a fast recovery. Ms. Herrera does not hold back, instead she empowers you with the knowledge you need to defeat your pain.